You must allow cookies and JavaScript for a proper shopping experience.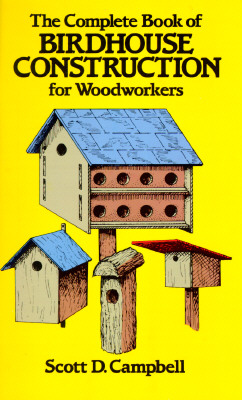 Price: $2.34
Publisher: Dover Publications : 3/1/1984 12:00:01 AM
Seller ID: mon0000705547
ISBN-13: 9780486244075
Condition: VeryGood
---
Here is a complete, down-to-the-last-detail guide for building attractive, sturdy, and genuinely inhabitable wooden birdhouses that will add a touch of natural beauty to garden, backyard, or anywhere else they are placed. Step-by-step instructions, clear diagrams, and many helpful illustrations and tables are included. All designs can be adapted to the use of simple hand tools ― saw, hammer, screwdriver ― making these projects ideal for woodworkers of all ages and levels of experience. Includes clear, easy-to-follow coverage for these topics: the selection of woods, helpful constru...
View More...
Price: $1.99
Publisher: Sterling : 1994-09-22
Seller ID: mon0000320783
ISBN-13: 9780806904856
Condition: Good
---
Dozens and dozens of full-size scroll saw patterns for sports figures and scenes are offered for every sport you can think of in this one volume -- tennis, boxing, weight lifting, baseball, golf, surfing, auto racing, figure skating, track and field, basketball, horse racing, football and many more -- they're all here. Make pegboards, tie racks, shelves, window ornaments, refrigerator magnets, wall decorations, silhouettes, overlays for box covers, and a variety of other handsome projects that every sports fan will love
View More...